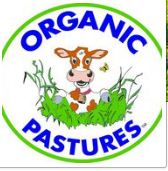 Mark McAfee credits Organic Pastures' "test-and-hold" protocol with having averted a potentially huge  E.coli O157:H7 disaster last month.
As it is, at least four children appear to have been sickened directly by OPDC milk, and possibly two others became ill on a secondary basis (such as from a raw milk drinker spreading the E.coli pathogen).
"There is no question our milk made four kids sick….in a very defined set of time," he says. Two of the four were hospitalized, and were released in a few days, without having developed the potentially very dangerous hemolytic uremic syndrome (HUS) complication, he says.
Those children consumed tainted milk that wasn't immediately discovered via the OPDC testing program in place for E.coli O157:H7—a "false negative," says McAfee—and was released in early January on two delivery routes. However, when milk from the dairy tested positive for E.coliO157:H7 the next day, it was held back for delivery to stores and farmers markets on 38 other routes, as the dairy voluntarily shut down for two days to track down the problem. McAfee says OPDC services 700 stores and 21 farmers markets.
"Two routes versus forty routes is a massive reduction" in risk, he says.
OPDC informed the California Department of Food and Agriculture about the problem, and the action it was taking. He also did a voluntary recall of milk that had gone out previously. The fact that OPDC acted on its own persuaded the state to refrain from forcing a shutdown.
McAfee says the dairy eventually discovered one cow that he says was shedding E.coli O157:H7 "from inside her udder" into the milk. The cow was born and raised at OPDC, so the problem can't be explained as coming from another dairy.
The notion of E.coliO157:H7 being shed directly into milk is a new, and potentially alarming, one in the world of food safety. Indeed, it hasn't been proven scientifically, and one food safety expert I contacted said that "proving" udder shedding would require a necropsy and culture of the udder; this expert says it has to be assumed at this point that  the positives are from the teats and environmental contamination from feces or bedding, and that E. coli movement into the teat (not down from the udder) has not been ruled out.
McAfee thinks recent heavy rains, in December and January, could have contributed to the pathogen problem. Also, the cow in question had just recently given birth. In any event, OPDC is increasing its pathogen testing frequency as a result, he says.
Since the state doesn't divulge names of people who are sickened by tainted food, McAfee is asking anyone who may have been sickened to get in touch with him, [email protected]. He has already compensated one family for its medical expenses.